Chiropractic Care
Power Health works hard to make a positive impact on your health. Your chiropractor will
develop an individualized care plan after a complete evaluation of your condition and symptoms
. This plan includes natural healing options such as chiropractic adjustments, nutritional guidance, exercises, and lifestyle changes.
Using this holistic approach, our chiropractors are able to treat a variety of conditions including injuries from auto accidents, sports, and work or slip and fall accidents as well as chronic struggles such as arthritis and fibromyalgia.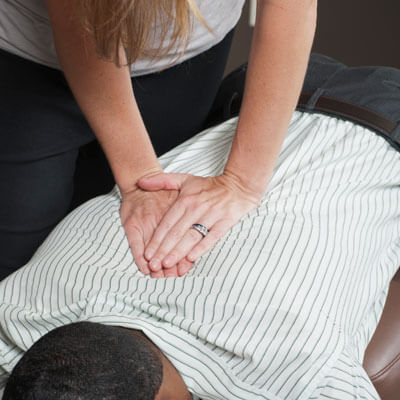 What is Chiropractic Care?
Chiropractic is a whole health care profession that focuses on optimizing and preserving health by the use of manual therapies to restore proper muscular-skeletal and neurological function. The word chiropractic derived from the Greek words "cheir" and "praktos" meaning to be done by hand. Chiropractic is a safe and natural alternative and used by millions of Americans either to treat chronic pain, body alignment, or proper restoration from injuries.
Chiropractors are the professional health care providers who use chiropractic care to treat all the symptoms of your condition such as back pain, neck pain, whiplash, joint pain, and injuries by using spinal manipulation, also known as an adjustment.
However, spinal manipulation is not just an option to treat. Sometimes chiropractors combine physical therapy and massage therapy too for better and faster recovery.
How We Can Help
We often see the patients suffering from chronic pain such as back pain, shoulder pain, neck pain, sciatica, hip pain, knee pain, leg pain, joint pain, headaches or migraines, and whiplash and auto injuries, work injuries, and sports injuries.
Among them, back pain and neck pain are the most common conditions we have treated at our clinic.
Benefits of Chiropractic Care
Chiropractic care has so many proven benefits which include:
Improves your performance
Alleviates pain
Stimulates the Immune System
Improve your wellness
Prevent major injuries
Benefits to every age of people
Safe to use by pregnant women
No need to take harmful pain killers
Reduce Inflammation
Discover Natural Health Today
Whether you're in chronic pain or have a new injury you need help with, we're here for you. Contact our team today to learn more about your options and find out how you can take control of your health today-naturally.
CONTACT US
---
Chiropractic Care | (855) 850-HURT